LOGO Design Package Professional
LOGO Design Package Professional
- 40 Designers Guaranteed
- 100% original design
- Unlimited revisions
- Dedicated Account Manager
- Certified Designers
- Copyright ownership
Specification:


1. Please contact us to tell us your request before sending the payment.
2. Communicate with the designer to establish the cooperation, then send the deposit.
3. During the design, you can't change the name or any other event, or it will be considered as a secondary design. We will send you the first draft within the given time.
4. After receiving the first draft, you can request as many design revisions as you need to get the logo you love.
5. When satisfy with the finalized design, we will send you the source file, and it can be AI/CDR/EPS, etc. format.
6. Send the rest payment and we complete the work. Thanks for trusting and supporting us.
Compare Packages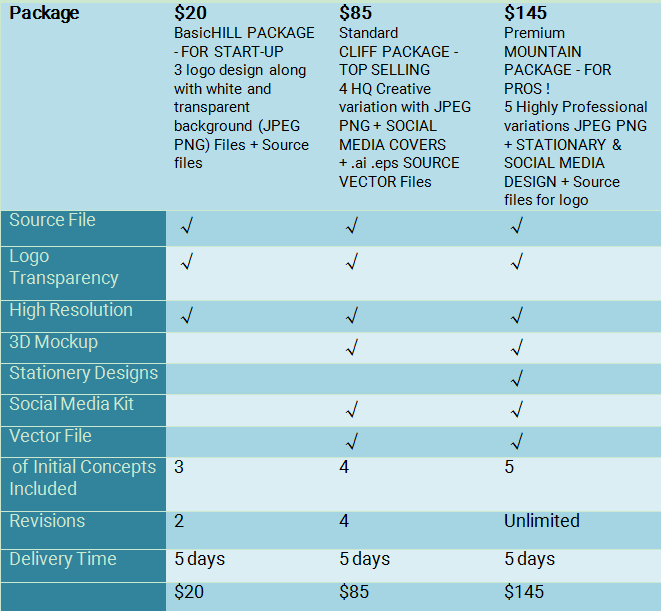 Why choose us?

Most Rated and Trusted Seller.
Reliable and Quick communication.
Printable and HQ File size.
Minimalist Logo and Flat Logo Expert.

Danyel: Very good service easy to use and cheap.
The customer has bought: Brand Design

2021/10/23

Matthew Hall: Great service, live chat was excellent. Happy days!
The customer has bought: Brand Design

2021/10/23

Colin: Great service, and amazing price options.
The customer has bought: Translation

2021/10/24

Pedro: Nice service. It meets my requirements very well.
The customer has bought: Marketing

2021/10/24

Dan: Amazing service, fast and reliable, the live chat was very helpful and they have always come as intended.
The customer has bought: Translation

2021/10/25

Clashbro: Safe easy reliable. The simple and easy way would recommend!
The customer has bought: Marketing

2021/10/25
Write your review